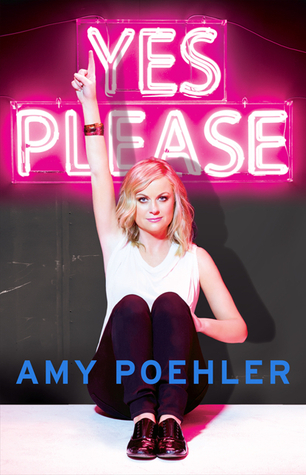 Goodreads Synopsis:
In Amy Poehler's highly anticipated first book, Yes Please, she offers up a big juicy stew of personal stories, funny bits on sex and love and friendship and parenthood and real life advice (some useful, some not so much), like when to be funny and when to be serious. Powered by Amy's charming and hilarious, biting yet wise voice, Yes Please is a book full of words to live by.
Rating: ★ ★ ★ ★
I LOVE Amy Poehler! If I could choose to have a celebrity best friend, Poehler would definitely be on that list.
Regardless of Poehler's long-standing history of comedy, this is not a comedy book. It's a memoir and autobiography of sorts. It's straight-forward, funny, and 100% real. But it has so much more to it. Poehler uses this book to teach others how to be a good person because she genuinely a good person. It's refreshing to see how a person can turn their dreams into reality without having been born into the celebrity lifestyle or by releasing a sex tape. Also, instead of making the book completely about her, she gushes about those in her life and those who she has crossed paths with.
The lightness of the book with the calming, straightforward words of Poehler has me believing I can do anything, to believe in myself, and how to be a genuinely kind person.  I heard the audiobook makes it a 1,000x better, so I will definitely be checking that out in the future because it is by Poehler herself.
I think it is hard to put into words just how much this book made me feel. Poehler killed us with kindness in this book and I will be using her words of wisdom in the future. Heck, there's quotes that will be used in my future classroom.
As for now I must continue to catch up on my posts. I highly recommend Yes, Please if you wish to read a lighthearted, self-help book. Next up, Attachments by the lovely Rainbow Rowell!