The end of semester is finally here! Luckily for me, most of my classes have already completed finals before Thanksgiving break(Online classes tend to run 10-15 weeks instead of the entire semester). The only thing I have left is a paper due by December 16th!
I finally have the time to make a list of my favorite children's books from this semester! My EDUC 495 focused solely on book selection for children and I absolutely adored it! So here are the books that made the cut!
Wiggins Learns His Manners at the Four Seasons Restaurant
by Leslie McGuirk
Wiggens is a Chocolate Labrador puppy who just can't seem to mind his manners. His parents don't know what to do, until they discover a place that teaches puppies all about refinement and how to behave — the famous Four Seasons Restaurant! Wiggens is nervous at first, but with the help of a Saint Bernard, he and the other puppies soon learn ten important lessons (and sample delicious food as well). Leslie McGuirk's playful art and language enliven tips from Four Seasons owner Alex von Bidder in a truly fetching tale about mastering your manners.
This book was adorable! The illustrations are perfect for the story. It's a great concept book for teaching children about their manners in a restaurant. Plus, who doesn't love a story about a puppy? Especially a Labrador puppy.
I Went Walking
by Sue Williams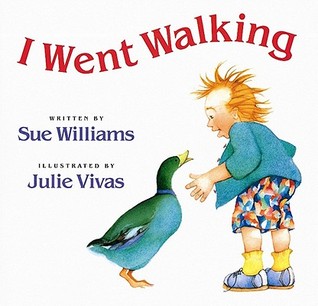 These catchy stanzas frolic through the Australian author Sue Williams's simple, funny read-aloud picture book that tracks a crazy-haired boy's stroll through the countryside. The boy sees a black cat, then a brown horse, then a red cow, and so on, and before he knows it, he's being trailed by the entire menagerie! The Australian illustrator Julie Vivas brings the parade to life in lovely, lively watercolors—when the pink pig looks at the boy, for example, the boy sprays off his muddy body with a hose. Big type, repetition, friendly art, clean design—and the visual guessing game created by introducing each animal only partially at first—make this beloved tale a winner at story time.
If I'm correct, this is the story that Eric Carle used for his popular book Brown Bear, Brown Bear, What Do You See? The stanzas are catchy of course. The little girl in the illustrations is a quirky adorable. I loved reading this one to my preschool class, because it was easy for them to follow along with the story.
The Adventures of Polo
by Regis Faller
Equipped with a backpack full of supplies, Polo sets off on a little boat–and on a series of delightful adventures that take him across (and under) the ocean, to an island and a frozen iceberg, to space and home again, with a world of magical encounters along the way. Polo's journey is packed with incident and expression; 80 pages of seamless, satisfying picture storytelling are perfectly targeted to the youngest reader.
This is a delightful wordless picture book. The illustrations are brightly colored and perfectly depict the adventure Polo is on. You can't help but get attached to the adventure as it perfectly transitions from place to place. A great book for little ones who can't read yet!
The Lion and the Mouse
by Jerry Pinkney
In award-winning artist Jerry Pinkney's wordless adaptation of one of Aesop's most beloved fables, an unlikely pair learn that no act of kindness is ever wasted. After a ferocious lion spares a cowering mouse that he'd planned to eat, the mouse later comes to his rescue, freeing him from a poacher's trap.
By reading this wordless, picture book, it is clear why it is an award winner! The illustrations are natural in color and absolutely gorgeous! I didn't even care that there were no words to the story. The illustrations perfectly depicted the story.
The Random House Book of Fairy Tales
by Amy Ehrlich
I have had this book in my personal library since I was a kid and I absolutely love it. The book contains 19 fairy tales from popular authors The Brothers Grimm, Hans Christen Anderson, and a couple others. The illustrations are perfect for their stories too!
A Child's Calendar
by John Updike
This calendar features poems from noted author Updike for each month of the year, accompanied by full-color illustrations of a multiracial family living in the New Hampshire countryside.
I liked this one because the illustrations were perfect. The poems for each month were spot-on. This book brought up the nostalgia of childhood.
Sector 7
by David Wiesner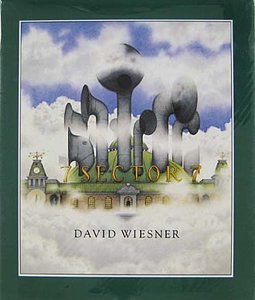 Only the person who gave us Tuesday could have devised this fantastic Caldecott Honor-winning tale, which begins with a school trip to the Empire State Building. There a boy makes friends with a mischievous little cloud, who whisks him away to the Cloud Dispatch Center for Sector 7 (the region that includes New York City). The clouds are bored with their everyday shapes, so the boy obligingly starts to sketch some new ones. . . . The wordless yet eloquent account of this unparalleled adventure is a funny, touching story about art, friendship, and the weather, as well as a visual tour de force.
I loved the illustrations in this book! Wiesner took us on an incredible cloud adventure with this story. This should have won the Caldecott Medal instead of just being honorable.  It definitely would have had my vote!
Welp, there you have it, my favorite children's books I had the opportunity of reading this semester. It doesn't stop there though! I get to read so much children's literature between nannying and teaching preschool, so I'm going to start posting some of my favorites!
Happy reading lovelies!